Title: Capturing His Heart
Series: Caer Tarw 1
Author: Frey Ortega
Publisher: Siren Publishing
Genre:
Erotic Alternative Paranormal Ménage a Trois Romance, M/M/M, shape-shifters, HEA
Release Date: August 2011
Rating: 3 Eagle Feathers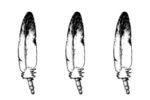 Blurb:
Welcome to Caer Tarw in beautiful, scenic Ireland, home of beautiful flora and endemic fauna, as well as…Minotaurs?
Rabbit shifter Hayden Somerset wastes away at home, having nothing to do and having no sense of progress in his life. One day, he is given an invitation he can't refuse: an all-expenses paid trip to Ireland for three weeks, sponsored by the Supernatural Council.
As soon as he gets to Caer Tarw, the stage is set: mating season is close by, and the purpose they were all invited for was to help the Minotaurs find their mates. Hayden is among the lucky ones, finding Minotaurs Brian Connelly and Ronan Breckenridge, who are lovers, and are Hayden's mates.
But not all is well in their tiny slice of paradise. Hayden is clueless about Minotaurs and knows nothing about them. Ronan and Brian are clueless about how to bring their rabbit into their world. How exactly will they capture their rabbit's heart?
Review:
Hayden Sommerset is a rabbit shifter who comes from a large family. He feels that his life is at a standstill. He still lives at home with his large family and at this point he would do anything to get a little excitement and action, so when an invitation comes inviting him to an all-expenses paid trip to Ireland, he jumps on it.
Brian Connelly and Ronan Breckenridge are minotaurs and mates. They love each other, but they know they need a third to round out their relationship. Both are dominant males and this can make it more difficult to meet each other's needs. They hope they'll find their third mate among the other shifters who have been invited to their home Caer Tarw.
All Hayden wants is to get away from his huge family and maybe find his mate on this vacation. Imagine his surprise when he gets not one mate but two. The sex is so hot between the three that it's enough to singe eyebrows. While Hayden is happy to have found mates, the two big bulls are just that big and bulls and when a fight breaks out between the two over a misunderstanding, Hayden fed up with this and the fact they kept one very important fact from him walks off to clear his head. Will Hayden leave his two mates taking his greatest gift with him, or will the three be able to work it out.
I enjoyed the world building in this story very much. I also liked the characters. While I'm not sure exactly what it was for me that didn't allow me to give it a higher rating than three eagle feathers, let me see if I can articulate it. While there was some conflict in this story, I think in this case it needed more. I just had a hard time feeling the character's emotions. I think if the story had had more action, and even more ups and downs and maybe a little less insta-love and insta-sex or at least where the story had these but was more fleshed out with more emotions and action, I would have enjoyed it more. I realize that may not be entirely clear but this story just didn't capture my attention the way it had the potential to. Despite this I will try this author again in the future because I know that not every reader is going to enjoy every story, and it's entirely possible I will enjoy this author's other books.